Tags
Gerelateerde berichten
Deel dit
SCOOP: Merrell Vapor Glove
Two weeks ago we saw a tweet that made us very curious: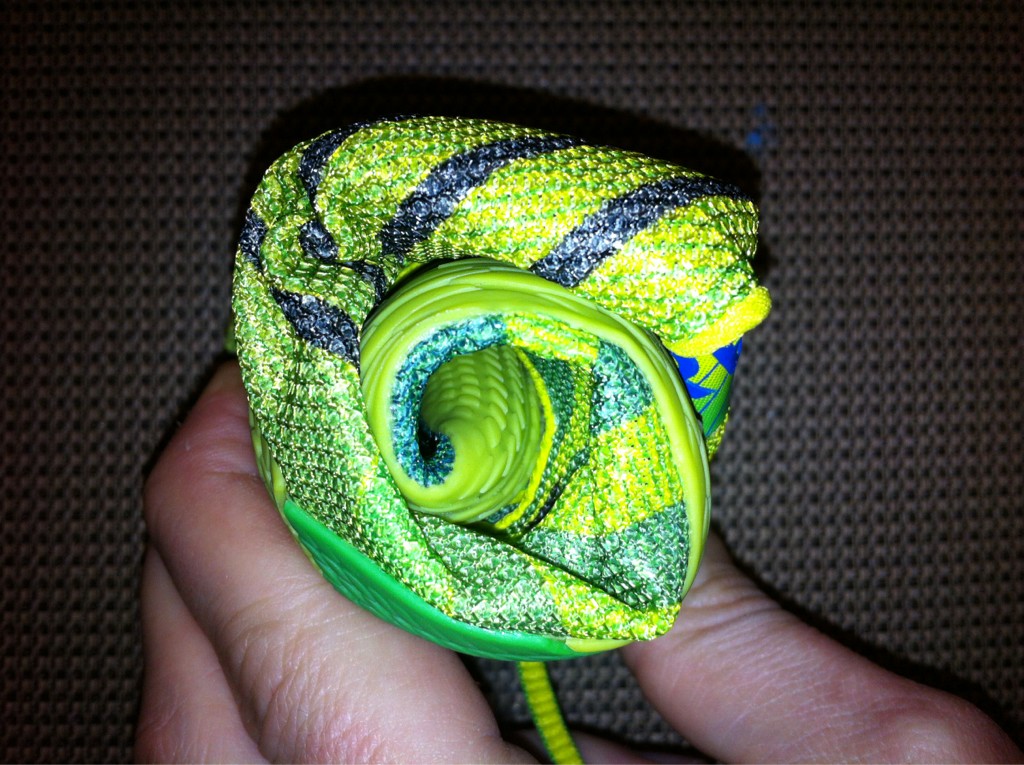 The tweet is in Dutch, but as you can see from the picture the pun 'snake preview' is a good one; the green upper material looks a bit like a snake's skin and it certainly is just as flexible. Now, the current Merrell Barefoot shoes is one of the most popular barefootstyle shoes, but is is not the most minimalistic of the bunch. By the looks of it Merrell was about to change that…
Of course this made us curious, but more information was nowhere to be found. Until today that is!
Vaporware
Prototypes and unreleased models are sometimes referred to as vaporware when it takes (too) long for them to hit the market. We are happy to be able to confirm that these shoes will become reality, and they will go by the name of Vapor Glove.
We got the worldwide scoop and got the chance to briefly look at them and try them on, and they sure didn't disappoint! Luckily we were also given permission to publish our first impressions, so here we go:
The Vapor Glove feels very lightweight (we did not have a chance to weigh it) and looks sharp; colors are a plethora of bright green shades and the upper is very spartan (only very few stitches or overlays). The inside feels very smooth, wearing them without socks will probably be no problem at all. The sole is very thin (again, no exact measures as of yet) and seems to an outsole with a skin friendly texture on the inside. When we looked at the shoe there was no separate insole, maybe it will be sold with one eventually. There seems to be no midsole and though the shape of the sole follows that of your foot quite nicely it does not give any substantial support – just the way we like it!
There was only one pre-production model available (there was no left shoe) but luckily it was exactly my size, so of course I tried it on. It felt great; I could hardly feel it's there and there were no pressure points. I did find the toe box a bit narrow for my pretty wide feet, but that could change with the production model. Overall the shoe feels very minimalistic and flexible, even compared to the more minimalistic ones from the competition.
There's not a lot more to tell at this moment. Oh, just a few more things:
The lady's model will be pink, every bit as bright as the man's green is.
The shoes will retail for approximately € 90,- here in The Netherlands (no word yet on prices elsewhere, sorry).
We have no information as to when these shoes will be available to the general public, however we do expect to review them around september, so we'll keep you posted ofcourse!
Before we forget, there also some information about some other changes to next year's line up, read about it here (we are working on an English translation).
We are very curious what you think about the Vapor Glove, please tell us in the comments!
We want to thank Merrell for this scoop.
If you want to post this information somewhere on the internet we would very much appreciate it if you credit www.frunning.eu as the source. Thanx in advance!